Tableau MicroStrategy Connector
The Challenge
A growing number of companies maintain multiple analytics platforms to satisfy the needs of its user base.
MicroStrategy and Tableau are a popular combination: MicroStrategy provides high-quality, governed, drillable data; Tableau provides visualization and exploration capabilities. Tableau's user-centric interfaces enjoy a high degree of adoption but the platform is weak on data governance, collaboration, and advanced analytics against large datasets.
The challenge then is to combine the distinct capabilities of the two platforms.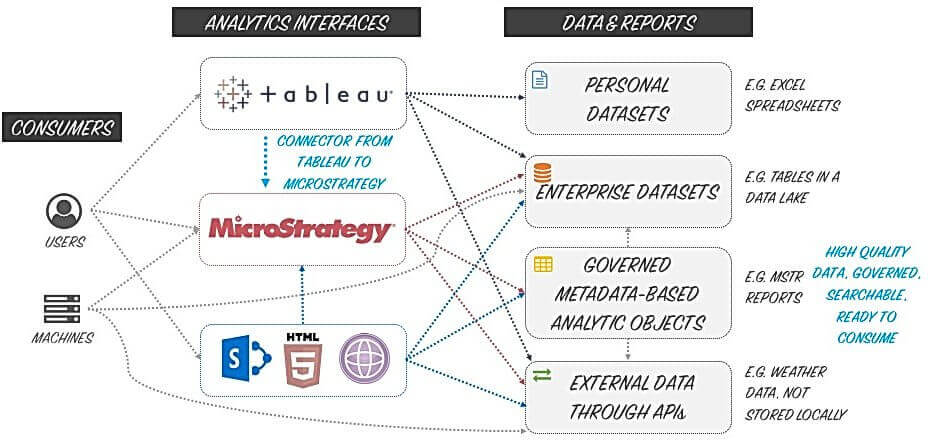 The Solution
AArete's Tableau-MicroStrategy connector allows Tableau users to seamlessly search, connect to, and interact with MicroStrategy reports.
Built using Tableau's Web Data Connector (WDC) SDK, it allows Tableau users to browse the MicroStrategy metadata in an intuitive interface within Tableau Desktop.
The connector leverages MicroStrategy's security framework so data-level and object-level security will be carried over from the MicroStrategy metadata. The latest version of the connector also supports certain types of MicroStrategy prompts so users can filter large datasets at run time.
What Ships as Part of the Solution
A plugin for Tableau server(s)
A plugin for MicroStrategy Web (ASP or JSP version)
Configuration-driven MicroStrategy metadata search
Support for static reports
Support for basic prompted reports (currently value and element prompts are supported)
Standard authentication for MicroStrategy. Any other authentication will require additional customization and service hours.
Pricing
Please contact us for a competitive proposal tailored to your needs.
Request Demo
To learn more about the Connector and schedule a demo, please drop us a line and we will get back to you soon!