Maria Turner Recognized as University of Iowa's Outstanding Accounting Alumni
An AArete Payment Intelligence® Leadership Feature
Maria Turner, Managing Director at AArete, has been recognized by the University of Iowa as their 2023 Outstanding Accounting Alumni.
Turner is backed by over 20 years of consulting experience and has consistently demonstrated loyal dedication, leadership, and service to her alma mater, where she currently chairs the Tippie College of Business Professional Accounting Council, spearheading efforts which raised more than $350,000 in support of the Dan and Mary Collins Ph.D. fund, transforming the department's analytics curriculum, mentoring female students in accounting and analytics, and more.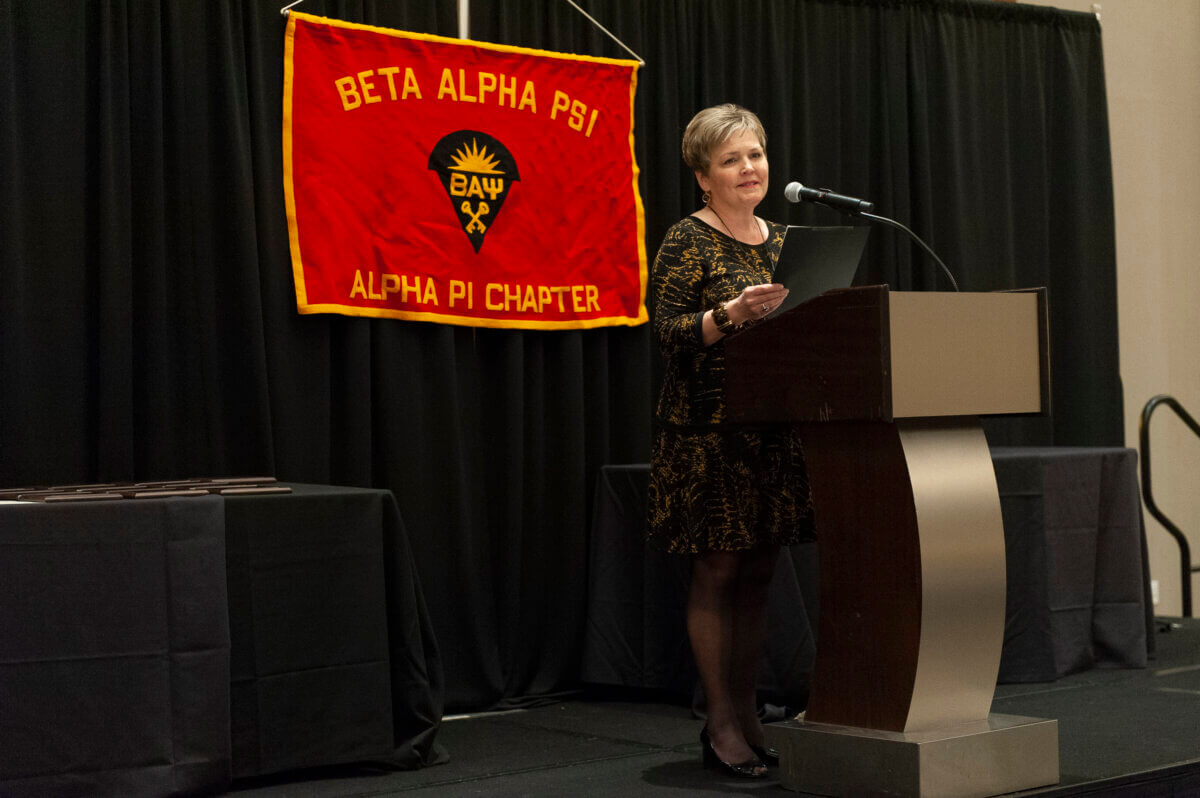 This recognition exemplifies Turner's loyalty to long-standing relationships and principles while encapsulating her commitment to ongoing success. In a rapidly changing world, Turner's contributions —both at AArete and elsewhere — empower her colleagues, clients, and peers to be prepared for what lies ahead.
As the leader of AArete's Healthcare Payment Intelligence® practice, which assists health payer clients with claims payment accuracy, Turner leverages her expertise in healthcare and business to provide innovative solutions to daunting problems. Her leadership on this front ensures erroneous payments are identified, understood, recouped, and rectified to avoid issues arising in the future, while also improving compliance, enhancing provider relations, and increasing the quality of patient care.
In a sweeping acceptance speech, Turner recounted her upbringing on a farm near a small Iowa town, her academic tenure at the University of Iowa, her time at Arthur Andersen & Co., and her nearly 13 years with AArete. Turner reflected upon the importance of a strong work ethic, the value of a CAN DO attitude in one's overall success, and how the values imbued during her childhood continue to echo throughout her career, as evidenced in AArete's Guiding Principles of Excellence, Inclusion, Stewardship, Community, Family, and Sustainability.
"Commit to preserving the world for future generations, just like we did on the farm when we maintained the quality and condition of the soil by preventing erosion and rotating the crops," explained Turner. "Although the Guiding Principles are like the proverbs of my youth, over the years, I have seen many dynamic changes in the accounting profession and the business world."
In an environment where rapid technological advancements in artificial intelligence, computing power, and robotic process automation are poised to upend the status quo, Turner's forward-thinking nature, values-driven philosophy, and strong commitments to loyalty and excellence will withstand the test of time.
AArete's Payment Intelligence® | About AArete