Employee Spotlight – Uttam Rajan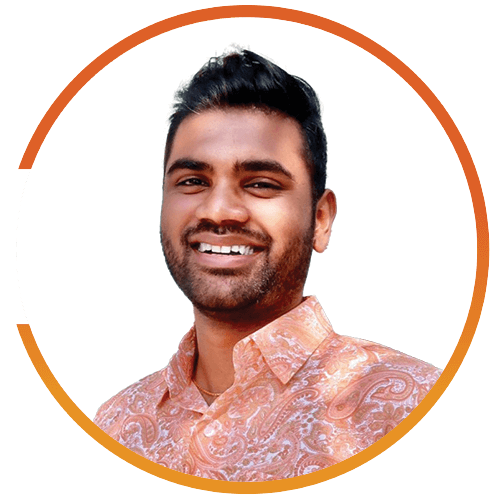 The month of May marks the celebration of Asian American and Pacific Islander Heritage Month (APAHM)! As part of our ongoing commitment to D&I, we've connected with our colleagues who identify as Asian, Asian American and/or Pacific Islander to provide a platform to share their personal backgrounds, identities to amplify their voices in our organization though employee spotlights.
Our second feature is Uttam Rajan, Consultant at AArete.
Q. How has your background or experiences as an Asian American helped you to achieve excellence and make AArete a better place?
For the first 6 years of my childhood, I grew up in small town outside of Hyderabad, India called Venkatapuram. I was blessed to grow up in a wealthy and large household that included 3 generations of Rajans. I did not have to worry about taking a hot bath in the morning, what clothes I was going to wear that day, or when my next meal would be. For most of my friends that grew up around me, life was much more difficult. Some of them lived in tents/huts around town, some did not have access to clean water, and most struggled financially. As a naïve child, I often wondered why I was born with so many privileges, while most others around me couldn't afford a decent pair of shoes. Though often others looked down on impoverished people, I saw everyone as humans and equals. My upbringing taught me early on to practice gratitude, show humility to others, and be kind to people from all walks of life. I strive to uphold these principles personally and professionally. At AArete, my hope is to serve others and inspire kindness to anyone I cross paths with.
"I have been working with Uttam for the last 4 months and have really enjoyed his attitude towards the project and the work we do, which can be a bit monotonous at times. Uttam is always eager to take on more work, whether it's new analyses in a new environment or building decks for client updates and leading his own work-streams. Uttam has had to learn a new industry coming from his previous professional experience but has transitioned well and has been a tremendous value add to our clients through delivering compelling business cases and analyses for optimal business growth."

Zach Baker, Senior Consultant at AArete
Q. Who is an AAPI figure that inspires you?
My mom is my biggest inspiration. When I was in elementary school, my parents divorced and it was really tough on all of us, but especially her. Not only was she an Indian immigrant, but she also did not have a college degree and had to become our primary provider overnight. I remember she would juggle multiple jobs, including graveyard shifts at our local Meijer, just to pay the bills and keep our house — all of this while taking care of my two brothers and I. She sacrificed everything to make sure that all three of us went to college and wouldn't struggle like she did. As I get older, the more amazed and inspired I am by her story and her relentlessness. I'm still in disbelief at how graceful she approached obstacle after obstacle, all with a smile on her face. My mom is the true definition of fighting for the American dream. She's taught me how to be courageous in times of adversity, persevere when all hope may seem lost, and most importantly, hold family near and dear to my heart.
Q. What is one thing you'd like to share about your heritage?
Hospitality and food are very important aspects of my South Indian heritage. Not only is the food spicy and absolutely delicious, but it also fosters community and lifelong bonds. When I was working as a tax consultant at Deloitte, we often had colleagues that would travel from India to Chicago on assignment to experience living in America and immerse themselves in western culture. Although living in a new country and experiencing new adventures is quite exciting, many of my Indian colleagues felt homesick at times. Sensing this, I invited a few of them over to enjoy a home-cooked meal by my mom. Without hesitation, my mom cooked a wonderful feast, including her famous Chicken Biriyani. We ate, drank, laughed, told stories, and my colleagues appreciatively expressed how they felt right at home. In winter of 2019, I vacationed in India and ended up visiting one of my colleagues that I had invited that day and was provided similar hospitality and food. I stay connected with all of them to this day. My story is a common one in Indian culture—where strangers can become best friends over a good home-cooked meal.