Meet Priya Iragavarapu, Vice President of AArete's Center of Delivery Excellence
Priya Iragavarapu is the Vice President of CODE, AArete's Center of Delivery Excellence. Priya has over 16 years of experience working in the data and technology space, with a deep history in the financial sector, designing and delivering analytics solutions. Priya has a demonstrated track record of helping companies make better, faster, more informed decisions by thoroughly analyzing their data and constructing custom, insightful, easy-to-understand, and highly visual solutions.
She was most recently nominated as a Consulting Magazine's Women Leaders in Technology 2023 Honoree. This recognition honors women with exceptional achievements in the technology and consulting field.
Read below to learn more about Priya, the best advice she has received, and what this recognition means to her.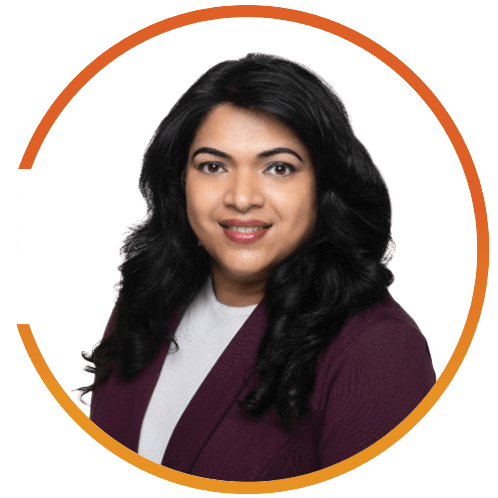 What has been the biggest factor in your success so far?
The biggest factor that helped me succeed and grow in my career has been my growth-oriented mindset and the willingness to learn no matter how difficult and abstract something seems. I have never considered a concept or topic as being out of my ability to comprehend. Some concepts need two hours to learn, while some others need two years to learn, but nevertheless, it is all still possible. This focus on learning is definitely the biggest factor in my success.
What do you enjoy most about your career in the consulting industry?
What I enjoy the most about being in the consulting industry is getting to work on varied and diverse challenges across all industries. The problem solver in me is perpetually and continually challenged in every client interaction, which keeps me energized and on my toes.
I have worked in other industries prior to joining the consulting world and I can say, without any hesitation, that one year in consulting industry is worth five years in any other due to the dynamic nature and versatility of problems and challenges we get to work on. I feel like I am turbo-charged every day while serving clients, which is very gratifying and enjoyable.
What is your proudest achievement to date?
My proudest achievement to date was when I architected, led, and delivered an extremely low latency application on a Big Data platform. The SLA for each transaction was 2000 milliseconds, but the 99% of all transactions cleared in under 20 milliseconds. Because of this, we were able to migrate the workload from an existing OLTP database (which we were outgrowing rapidly) to the Big Data platform, which created more synergies for downstream analytics at scale. There have been quite a few business "miracles" I was able to perform leveraging great teams and technologies.
What's the best advice you've ever been given?
When I was starting my career, I would go to my manager every time I was at crossroads to seek his input. He told me once, and I have never forgotten it since, that if I come across a problem, I should bring at least two solutions to the table, and not just take on the problem without any proposed resolutions. That has had a huge impact on my career since.
As a leader, in one conversation with my mentor, Inderpal Bhandari, Global Chief Data Officer of IBM & Board Member of Walgreens Boots Alliance, I asked him what I should do if I want a particular role/title but I am not there yet. He told me, "Priya, if something looks like a duck, quacks like a duck, and walks like a duck, it must be a duck. Likewise, if you strategize, plan, work hard and deliver as if you have that title/role, that will create the impetus to showcase your skill and to make a case for that position." Because of that advice, I always strive to be the change that is needed and I do not wait for someone else to solve the challenges in front of me.
What would this recognition mean to you?
This recognition certainly is a validation that I belong alongside these amazing, incredible women leaders. It is gratifying. However, this recognition is also a responsibility to make sure I am leading and mentoring future women leaders who could also be recipients of such an honor. This recognition gives me the motivation to do just that.