AArete Managing Director, Elizabeth Levy, Named a Top 50 Leader in Healthcare Consulting
This is an AArete Healthcare Payer Insight
CHICAGO, August 24, 2022 – AArete is proud to announce Managing Director Elizabeth (Liz) Levy has been recognized on The Consulting Report's list of The Top 50 Leaders in Healthcare Consulting of 2022. Leaders named to this list advise the largest and fastest growing healthcare companies in the world. The Consulting Report states that this year's awardees "are enabling today's healthcare companies to improve their efficacy and efficiency, ultimately leading to enhanced care for patients worldwide."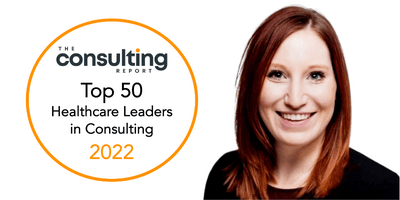 "I am honored to be recognized among such an impressive group of professionals," said Liz. "My personal focus and one of AArete's guiding principles is delivering excellent client outcomes—it is gratifying to see that recognized." she continued.

Elizabeth (Liz) Levy, AArete Managing Director
Liz advises healthcare payer clients on strategic profitability improvement, member experience, and digital and technology initiatives. She has extensive background in strategic cost reduction, scaling healthcare payer operations for short- and long-term growth and using data-driven insights to improve financial and operational performance. Her client successes have included supporting numerous health plans to positively impact their bottom line through effective change management solutions.
Liz serves on AArete's Executive Leadership Team and is a founding member of the AArete Women's Initiative Network (WIN). She also leads AArete's DEI Center of Excellence to encourage and empower diverse voices and cultivate an environment of belonging for all at the firm. Liz is a member of Women Business Leaders of the U.S. Health Care Industry Foundation (WBL). She holds a BBA in Marketing from Loyola University Chicago and an MBA from DePaul University.
---
Get in Touch With an AArete Healthcare Payer Expert
About AArete
AArete is a global management and technology consulting firm specializing in strategic profitability improvement, digital transformation, and advisory solutions. Our cross-industry solutions are powered through modern technology, market intelligence and data-driven strategies to drive purposeful change and actionable outcomes. For more information, visit www.aarete.com or follow us on LinkedIn or Twitter @AArete.
Learn more about AArete's Profitably Improvement solutions